Former Deputy Vice-Chancellor Encourages Students to Study Political Science, Economics and History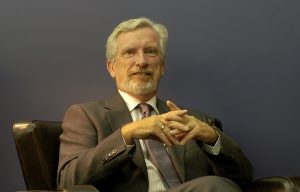 Doug Owram is a noted Canadian historian who has served in multiple senior university and professional positions. He attended Queen's University, graduating with an Honours BA in History and Economics, and with an MA in History. He completed his PhD at the University of Toronto.
In 1976, he joined the Department of History at the University of Alberta, where he was promoted to Associate Professor in 1980 and Professor in 1985. He later served as Associate Dean of Arts, Associate Dean of Graduate Studies and Associate Vice-President (Academic). From 1995 to 2003, he served as Vice-President (Academic).
Professor Owram has authored or edited eleven books in addition to numerous articles. His books include Promise of Eden (1980), The Government Generation (1986), Born at the Right Time (1996) and A History of the Canadian Economy (1991).
In recognition of his academic work, he was made a member of the Royal Society of Canada in 1990 and won the University of Alberta's research prize in 1995.
In 2006, he was appointed Deputy Vice-Chancellor and Principal of the University of British Columbia's Okanagan campus (UBCO). In this role, he was responsible for putting UBC's new campus on a sound academic footing, expanding student enrollment from 3,200 to 8,000 full-time equivalents, and overseeing a $400 million construction program. He completed his term in 2012 and retired in 2014. He currently serves as Chair of the Degree Quality Assessment Board of British Columbia.
Professor Owram resides in Kelowna with his wife Deborah and has one daughter, Kristine, currently living and working in New York.
Interview with Professor Owram
Q: Professor Owram, the Doug Owram Scholarship supports students in Politics, Economics and History. What made you want to support the University in this way?
Doug Owram: History is my own discipline, and Political Science and Economics are related fields that are important to my work. I also wanted to support senior students who have a record of accomplishment but who might appreciate some financial support as they push through to degree completion.
Q: Have you been pleased with how the University has grown, both during your time here and afterwards?
Doug Owram: UBCO has made tremendous progress. When I arrived, there were just over 3,000 students. There was also a great deal of uncertainty about what UBCO was, both to the local community and to the other UBC campus. Now, UBCO has clearly been established as a major presence in the Okanagan and as a strong academic partner to the UBC campus in Vancouver.
Q: What motivates you to stay involved with UBCO today?
Doug Owram: The university world has been central to my career and my interests since I headed off as an undergraduate to Queen's many decades ago. It is thus natural that I direct donations to universities where both scholarship and teaching make important contributions to society. Having served as Deputy Vice Chancellor and Principal at UBCO, I am proud of the institution and the role it plays. Also, making contributions to a new and relatively small institution can have a more significant impact than contributions made to an older and larger university with a major endowment already in place.
Q: Do you have any advice for students who are studying at UBCO today?
Doug Owram: Enjoy yourself while you're a student!
Doug Owram, Promise of Eden (University of Toronto Press, 1980)
Doug Owram, The Government Generation (University of Toronto Press, 1986)
Doug Owram, A History of the Canadian Economy (Harcourt Brace Jovanovich, 1991)
Doug Owram, Born at the Right Time (University of Toronto Press, 1996)
Submitted by Professor Andrew Irvine, September 2020.