UBC Okanagan Students Supported by Generous Donations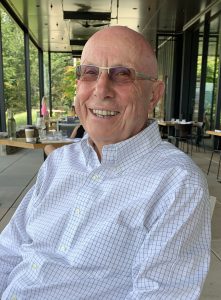 After graduating with a BA in International Relations and an MA in Political Science, Roger Gale received his PhD in Political Science from the University of California, Berkeley in 1977.
He then taught Political Science at the University of California, Berkeley, at the University of Guam, and at the University of Tsukuba in Japan before taking positions as a speechwriter to the Secretary of the US Department of Energy, as Director of External Affairs for the US Federal Energy Regulatory Commission, and as Director of the Office of Civilian Radioactive Waste Management at the US Department of Energy.
More recently, Dr Gale has served as President and CEO of GF Energy LLC. He continues to serve on the boards of directors for both Adams Diversified Equity Fund (ADX) and Adams Natural Resources Fund (PEO).
Dr Gale has funded a wide range of student scholarships at UBC Okanagan (UBCO).
Today, he lives with his family in Kelowna.
Interview with Dr Gale
Q: Dr Gale, you have made donations to UBCO to create student scholarships at both the undergraduate and graduate level. What made you decide to support the University in this way?
Roger Gale: Scholarships are a wonderful way to help produce our future leaders. Rewarding and incentivizing students to excel is key to success in education. And for some students with tight finances, scholarships give them a way to focus more on their education. A small undergraduate scholarship I received made a very big difference to me at the time.
Q: Why did you choose to support students in Philosophy, Politics and Economics?
Roger Gale: PPE programs serve a very important function, especially in today's divisive world. They help teach students how to think and how to learn to deal with complex issues. With so much excessive specialization in academia and elsewhere, it is important that we produce leaders who are educated to understand the world's dynamics and who are able to lead others.
Q: Did you enjoy being a student when you were at university? What did you study?
Roger Gale: I very much enjoyed my university education. My focus was international relations and political philosophy. My PhD thesis was more practically oriented, focusing on US colonialism and military strategy in the Pacific.
Q: What parts of your time at university most helped you succeed after you graduated?
Roger Gale: Being a graduate student during the Vietnam War brought all the political philosophy I studied into a very real focus. It turned most students into on-the-street political science students. It made most of us critical of government and, unfortunately, distrustful.
Q: What motivates you to stay involved with UBCO today?
Roger Gale: UBCO does so much to help the Okanagan produce thoughtful leaders. Strong, growing communities need universities to bring focus and insight to issues that communities face today.
Q: Do you have a long-term vision or hope for the University?
Roger Gale: The university seems to be on a steady course. My hope is that the more the university is integrating with the community, the better.
Q: Do you have any advice for students who are studying Philosophy, Politics and Economics today?
Roger Gale: Always work toward becoming a leader.
Submitted by Professor Andrew Irvine, September 2020.